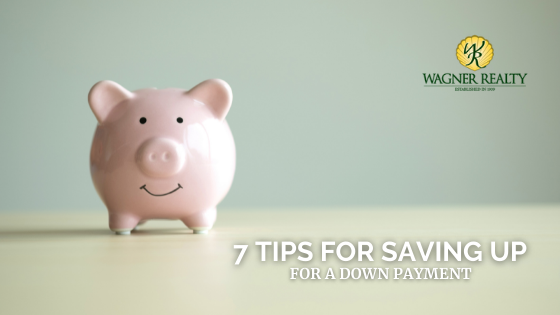 Saving up for a down payment can be one of the most challenging parts of buying a home, especially for first-time buyers. Here are seven tips our real estate agents recommend to help you save for a down payment on your dream home!
Set a Goal
First things first: It's important to know how much you need to save. Research Bradenton homes for sale, for instance, to see average home prices in the area. It might be a good idea to talk to a lender, not necessarily to get pre-approved right now but to get an idea of what kind of a loan you will likely qualify for and how much you'll need to put down. Once you know how much you'll need, you can set a goal and start saving!


Reduce Your Spending Money
There's one place you can always cut back, and that's your "fun money." It might not sound like fun to cut back on trips to the movies, coffees to go, and impulse buys, but putting that money into savings instead is an easy way to save. If that new TV seems too tempting to refuse, browse Sarasota homes for sale to keep yourself motivated!


Lower Your Expenses
You may be able to save money on your expenses, too. Make a list of your monthly expenses and look for two different things: expenses you can reduce, such as by changing the deductible on your car insurance or even eliminate entirely, such as a cable subscription or gym membership that you don't use often enough to justify the expense. The money you save each month can go straight into savings.


Save Any Unexpected Money
Any extra money you get, above and beyond your usual income, can also go straight into savings. This includes bonuses from work, gifts from family, and pay for side jobs. If you want to be really ambitious, you could deliberately take side gigs or even a second job on a temporary basis to generate some extra money for your savings.


Start a Dedicated Savings Account
When you're saving for something specific, such as a down payment on a house, it's a good idea to create a brand new savings account, separate from your regular savings account. Make sure your regular savings account has enough money in it to cover you in an emergency, but having a dedicated account for your down payment savings will help you to save better and see at a glance how you're doing.


Transfer Money Automatically
Out of sight, out of mind applies here! Add up how much money you're saving each month on reduced expenses and spending, and set up an automatic transfer to happen every month with that base amount. You can always add to it as you can, but this way, you'll have a minimum amount going straight into savings every month.


Seek Help
No matter how good you are at saving, you could benefit from looking into various programs that will get you into a home sooner rather than later. For instance, many employers offer the ability to borrow from your 401(k) to pay a down payment. There are also many grants and other programs available for homebuyers, especially first-time homebuyers.
Saving for a down payment may seem daunting, but having a solid plan in place can put your dream house within easier reach than you might think. Ready to start your search? Contact us today.